Beginning Again, with 4iP
Nearly fifteen years I read am article on Tom Paine in the first edition of Wired UK magazine. It changed my life.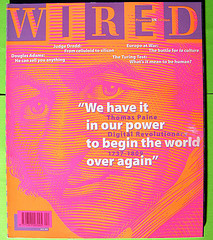 Jon Katz's inspirational feature gave me the confidence - the belief - to walk away from a cosy career building bridges, and aspire instead to build a better future using 1s and 0s rather than concrete and steel.
Tomorrow, after a tortuous period of gardening leave, I start at Channel 4 where I'll be heading up their new 4iP fund along with the likes of the mercurial Ewan McIntosh.
The point of 4iP ? To reinvent Public Service Media for the 21st Century.
Have no poverty of ambition, as a wise man once advised me...
I can't wait to get started.