If I'm honest, I'm not particularly fussed about Russell Brand, though he's clearly a natural at the short form web video oeuvre.
What interests me more about the video above, taken from the BBC's YouTube channel, is that I'm able to embed it into this blog at all.


At launch back in March, all the video clips in the BBC's public service YouTube channel (UK users only - sorry) had embedding disabled at the BBC's request.
Why? In short, a deep-rooted fear of handing over control of context to punters, and a more reasonable concern that the whopping YouTube logo burnt in the bottom right hand corner of every embedded clip would play havoc with people's brand attribution.
For example, here's that clip embedded in Brand's MySpace site. Lots of YouTube branding. No BBC logo in sight.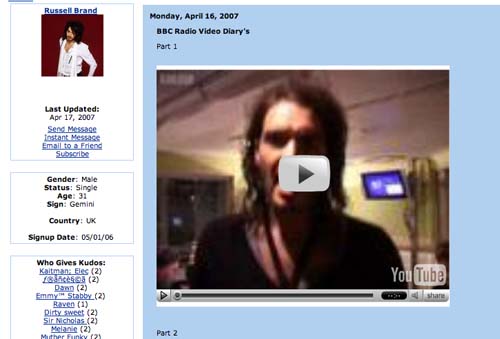 Yet disabling embedding on the vast majority of BBC clips is a flagrant transgression of BBC Web Principle No. 10 - Maximise routes to content.

The Russell Brand Video Diary is the only BBC public service clip with embedding enabled. It performs well compared to equivalent BBC clips on YouTube.
These two facts are probably related.
Control of context comes at the cost of attention.